Publication 01




Armenian Creatives:
TRANSCRIPTION —
THE SPACE BEFORE TRANSLATION


Winter 2021






A collection of gatherings and collaborations, transcribed for the printed page, Transcription—the Space Before Translation is both love letter and testimony, correspondence and assembly, offered from and for members of our group, the Armenian Creatives.
MISSION STATEMENT
Armenian Creatives meet to exchange developments in our artistic ideas and identities. A free-form get-together provides the setting to discuss projects that may or may not have to do with being Armenian, cultivating a community of integral support and infectious creativity. Initiated to hold a space that we couldn't find prior, through these gatherings we aim to empower and liberate inventiveness, imagination, and individuality—sharing our different knowns along with our imminent futures and hopes.
These monthly meetings may manifest over a meal cooked together, as well as through publication, printed or digital. We aim to archive a portion of each gathering, not only to tell stories of the past, or to exist for future eyes, but to balance the presence shared in a moment.
Armenian Creatives formed in Brooklyn, NY, but with the natural momentums of members following new dreams we now find ourselves in various corners of the world and aim to touch base through satellite choreography as much as possible. A majority of us still find ourselves in New York.
If you wish to join, let us know! Please send an
email.
Images courtesy of Cassandra Tavukciyan and Google
---




List of members who have attended Armenian Creatives meetings since July 2018, whether one or every single meeting
Alina Gregorian,
New York
Anahit Pogosian,
New York
Arpi Adamyan,
New York & Yerevan
Caroline Partamian,
New York & California

Emma Welty,
Connecticut
Emly Stamboulian,
New York
Harry Berberian,
New York
Justin Mayfield,
New York
Katie Giritlian,
Chicago & New York
Kamee Abrahamian,
Ontario
Kohar Minassian,
New York
Linus Ignatius,
New York
Leah McClosky,
New York
Mher Tarakjian,
New York & Paris
Rehan Miskci,
New York
Roubina Tutunjian,
New York
Souren Papazian,
San Francisco & New York

Raffi Wartanian,
Los Angeles
Anahid Yahjian,
Los Angeles
Responsible for different letters, our group made and assembled a collective Armenian alphabet.
You can download the font for free
here
.
CONTRIBUTOR KEY

Աա, Բբ, Ծծ, Ղղ, Յյ , Ջջ, Ււ—Anahit + Hakop
Գգ, Րր—Kohar
Դդ, Եե, Զզ—Roubina
Էէ, Տտ—Emily
Եե—Linus
Թթ, Ժժ, Իի—Alina
Լլ, Ոո, Քք—Kamee
Խխ, Սս—Katie
Կկ, Ձձ—Angel
Հհ—Harry
Ճճ, Ցց—Justin
Մմ, Ռռ—Rehan
Նն, Չչ, Օօ—Leah
Շշ, Պպ—Souren
Վվ—Emma
Փփ, Ֆֆ—Caroline




MEETING FLYERS

The following flyers, shared for both our internal meetings as well as our public programs, offer and circulate textures from our visual language.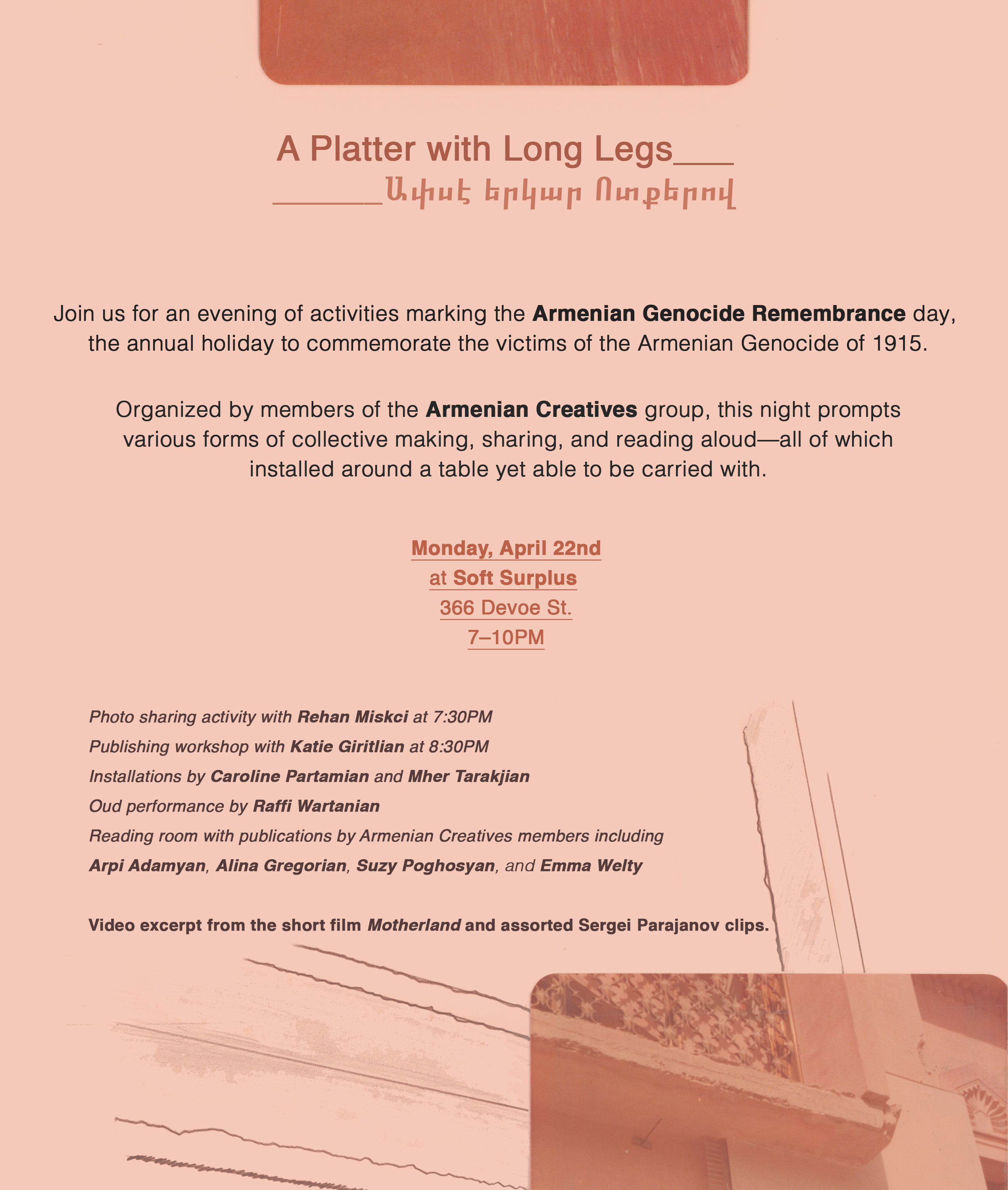 Image credits: Arevmedyan Haystan archival photo, Minas Avetisyan's Toujours Vie (1961), Dikran Spear's Traditions of the Tigris, Metropolitan Museum,
Project SAVE Armenian Photograph Archives, Watertown, Massachusetts, USA