List of members who have attended Armenian Creatives meetings since July 2018, whether one or every single meeting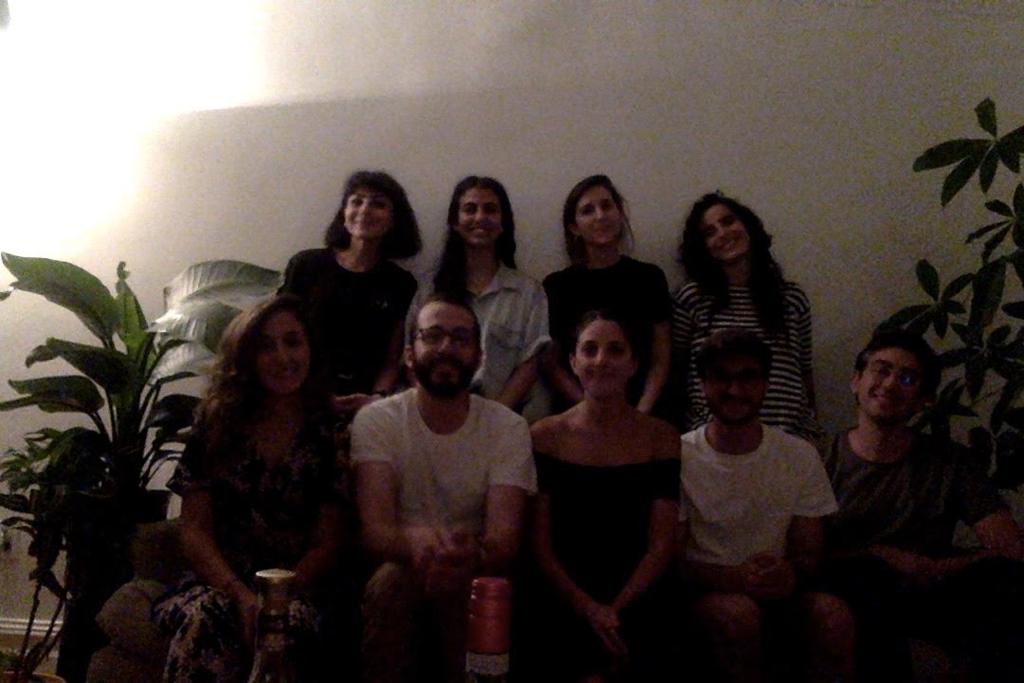 KAMEE ABRAHAMIAN is a queer and feminist mother, interdisciplinary creative, scholar, writer, producer, and facilitator. Their work is steeped with relational, generative, visionary and liberatory practices oriented towards ancestral reclamation, diasporic futurism, and radical imaginaries.



ARPI ADAMYAN is a multimedia artist based in New York and Yerevan. She creates queer-feminist world building projects. The complex realities she makes are charged with historical citations and speculations of the futuristic biotechnological world.



HARRY BERBERIAN is a fundraiser for a human services organization in New York. He enjoys making-believe, connecting with Armenians over coffee and reading comic books.



ANGEL DERADOORIAN is a musician and Vedic Astrologer.



KATIE GIRITLIAN is an artist and arts worker based in Chicago and New York. Attending to histories with the camera and events of photography, both violent and liberatory, while longing for uses that prompt fellowship, she facilitates intimate performances and assembles publications.



ALINA GREGORIAN is an artist, poet, and designer based in Brooklyn, NY. She curated and appeared in the exhibition Talk to me in Parsley and Tambourines.



ALEXIA HATUN of diaspora -- preoccupied with language, in love with Hayeren; graduate student in Armenian Studies at UCLA, pursuing Western Armenian revitalization.



LINUS IGNATIUS Actor and a filmmaker based in NYC. As a character actor, he specializes in extreme dialects, off-beat personalities, and villains. As a filmmaker, his work twists together comedy and drama to create layered social commentary, dealing heavily with LGBTQIA+ issues, HIV awareness, and taboo psychological terrain.



GAMAR MARKARIAN



JUSTIN MAYFIELD, Musician/composer/audio engineer based in Brooklyn, NY. As a musician, he writes/records/performs with Sheen Marina and Tag Cloud, and also regularly plays guitar with the Brim, Miracle Sweepstakes, and Edna.



LEAH McCLOSKY is an artist and illustrator currently based in Brooklyn, NY.



KOHAR MINASSIAN is a creator of videos and images.



REHAN MISKCI is a New York and Istanbul-based visual artist working in photography, video, and installation.



ALEX ORORIAN ALECO is a multimedia artist/maker originally from Glendale, CA. They're interested in liminal spaces of queer and diasporic SWANA identities, and connecting with others through art expression. They make videos, lo-fi, romantic pop-rock music, drawings, and handpoked tattoos. Some of the repeating themes in their work include sapphic-galactic romance, body transformation, the supernatural, and queer monstrosity. They're currently completing their undergraduate degree in Gender, Sexuality, and Womxn's Studies at The University of Pittsburgh.




SOUREN PAPAZIAN




CAROLINE PARTAMIAN is a sound and visual artist influenced by her training in dance. She works closely with the concept of abreaction, the extraction of dormant memory stored within a muscle, resurfaced through physical movement, of which an individual was previously unaware.



ANAHIT POGOSIAN is a visual artist and designer who makes everyday objects that celebrate life.



EMILY STAMBOULIAN is a human in New York who has an internet radio show called Purely Circumstantial. She likes to record stories of synchronicity and funny sounds.



MHER TARAKJIAN is a Syrian-Armenian architect based in the US. After 10 years of practicing architecture in New York City, he is now pursuing multidisciplinary research at the Harvard Univeristy design school.



ROUBINA TUTUNJIAN is a designer and strategist currently based in Manhattan, NY.



DEBORAH VALOMA is an artist, professor, and chair of the Textiles Program at California College of the Arts, where her specialized field of research, writing, and teaching investigates textiles as signifiers of identity and agents of cultural continuity. In addition to teaching courses on textile history and theory, she lectures, curates exhibitions, and writes articles on related topics.



HRAYR VARAZ 🐗 is a white, bearded queer cis-male Western Armenian-ist, SF-based twitter-poet dancer linguist, sexpert intensity flow-er, 🌺ftografr🦋



RAFFI WARTANIAN is a multiplatform storyteller passionate about social justice, creativity, and innovative institutions.



EMMA WELTY is an artist, educator, curator and writer. In her studio she is a weaver and researcher, interrogating her relationship to the loom through craft legacies, inherited muscle memory and the links between textiles and language.



ANAHID YAHJIAN is an independent writer, director and producer of experimental, documentary and narrative cinema.